Schoutteten & Froidure : Products Made in France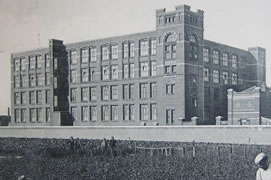 B

ased in the north of France since 1788, Schoutteten & Froidure is the authority when it comes to weaving straps, ribbons, and elastics.

Our production capacity and the diversity of our tools lets us meet each of your needs.

With our 160 jacquard, shuttle, NG, NH, or shuttle looms, we weave various materials (PA, PES, PP, cotton, acrylic, aramid, para-aramid, Dyneema). Furthermore, we can reduce response times thanks to our extrusion, yarn dyeing, twisting, weaving and piece dyeing techniques.

Finally, our collaboration with, among others, military, aeronautical, automobile, railway, sports, or general mechanical businesses gives us real market expertise.

S & F is part of the Fauchille Group (€60M turnover – 500 employees) bringing together 18 production units in France. Supported by this force, S & F invests in and develops new skills by opening to new activity sectors such as plastic injection and metallic parts.
THE GROUP AND BUSINESS' KEY FIGURES
FACHILLE Group
€ 60 M
TURNOVER
Group president
Mr Gérard FAUCHILLE
Production sites
18
Employees
500
---
SCHOUTTETEN & FROIDURE
€ 8.3 M
TURNOVER
Managing Director
Mr Blaise DALLE
Date created
1788
Employees
49