A modern equipment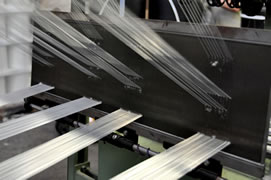 Discover the extent of our weaving, dyeing, treatments, overmolding, as well as the different materials used. You will find a technique that meets your need. Learn more about weaving techniques
Weaving Techniques
Straps and elastics are used in many fields. From the obvious uses such as clothing, security harnesses, or stowage of transport goods. But our products are also present in more technical fields, like aeronautics or in the military.
Product Applications
A recognised weaving quality

100% of our products are made in our factories in France

A contact dedicated to your project for a long-term partnership

Quality products and satisfied customers
Narrow fabric professionals
With 200 years of know-how, we can solve all your strap and elastic problems. A team brings you custom solutions to meet your needs. Following your design briefs and your specifications, we will develop products that you need for your safety harness, your military uniform, and many others… With a project manager who will accompany from the production to the delivery of the product, all you have to do is place your orders.